Firstbeat Uploader Plugin is needed with Firstbeat Bodyguard 2 to prepare the device and to upload measurements directly to Sports Cloud Dashboard. Installing the Plugin takes about five minutes. After the installation, you can prepare devices and upload measurements with your browser straight to your Firstbeat Sports solution.
In order to use Firstbeat Uploader Plugin tool your operating system needs to be macOS 10.11 (El Capitan) or later. You can check your Mac OS version with these instructions.
Follow this guidance to install the Uploader Plugin for Safari browser.
1. Download the Firstbeat Uploader Plugin from here: Safari Uploader Plugin Extension.
2. Click View in Mac App Store.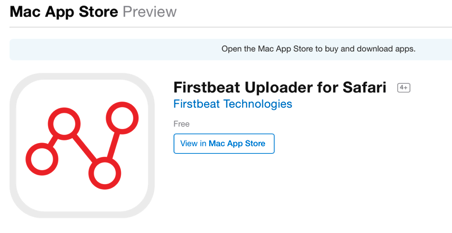 3. Click the cloud icon to install the application.

If the system asks for a confirmation by the administrator, enter your admin credentials and press OK to confirm the installation.
4. Open the Safari browser.
5. From the top left corner's menu, click Safari ⟶ Preferences.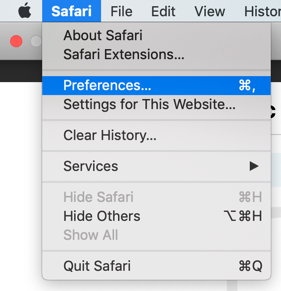 6. Open the Extensions tab.

7. Select "Firstbeat Uploader Extension" on by clicking the check box on the left.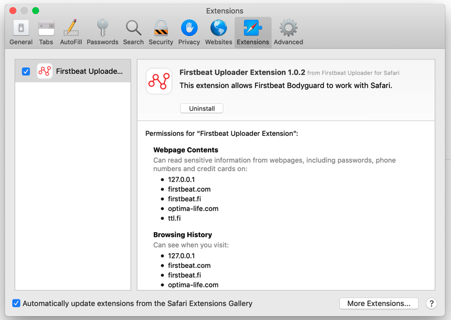 8. Close the Preferences window by clicking the red close button from the top left corner.
9. Finally refresh the Firstbeat site.
The Uploader Plugin extension for Safari is now installed and you can test that it works. 
If you need any further assistance with this, you can contact Firstbeat Support.