For the latest Mac OS versions Apple has made their security features more strict to help avoid malicious software from being downloaded from the Internet. You might get the following notification from your Mac when you've downloaded the Firstbeat Sports Monitor installation package from Firstbeat Sports Cloud: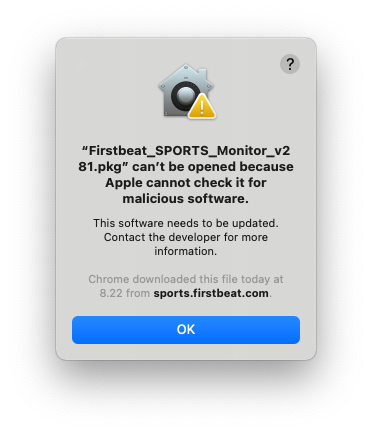 Firstbeat Sports Monitor has not been registered to Apple, unlike the Firstbeat Sports apps, so that's why it fails the automatic malware check. You can however trust that the software installation package is safe when downloaded from the Firstbeat Sports Cloud, and proceed with downloading.
You can however go around this by opening the System preferences and from there Security & Privacy settings. In here you should be able to find a way to tell your Mac that it's safe to open the file. Please find a helping screenshot here:


When you click the "Open anyway" button, your computer will prompt a new confirmation dialog, where you can click to download the Sports Monitor installation package and continue with the installation.
If you need any further assistance with this, you can contact Firstbeat Support.