Introduction
The Heart Rate Recovery feature measures how fast the heart rate decreases within a selected time period. This feature focuses on automatic calculation of the recovery values. This saves time and makes tracking changes over a longer period of time feasible. Also, athletes doing a fitness test at different times is not a problem and creating a lap for each lap is not required.
Heart Rate Recovery is available in the Sports Cloud. Because of the post-analysis focus of the feature, real-time calculation of the heart rate recovery variables in the Firstbeat Sports: Coach app is not available.
The Heart Rate Recovery feature is available for premium+ users.
How to Use the Feature
Calculated values are visible in the Firstbeat Sports Cloud dashboard and in the data export.
Both absolute (bpm) and relative (%) values are calculated. Absolute value is simply the drop of heart rate in beats. Relative value uses the maximum HR value set in the athlete profile. Relative value is calculated using the equation maximum heart rate recovery (bpm) / athlete max HR setting * 100.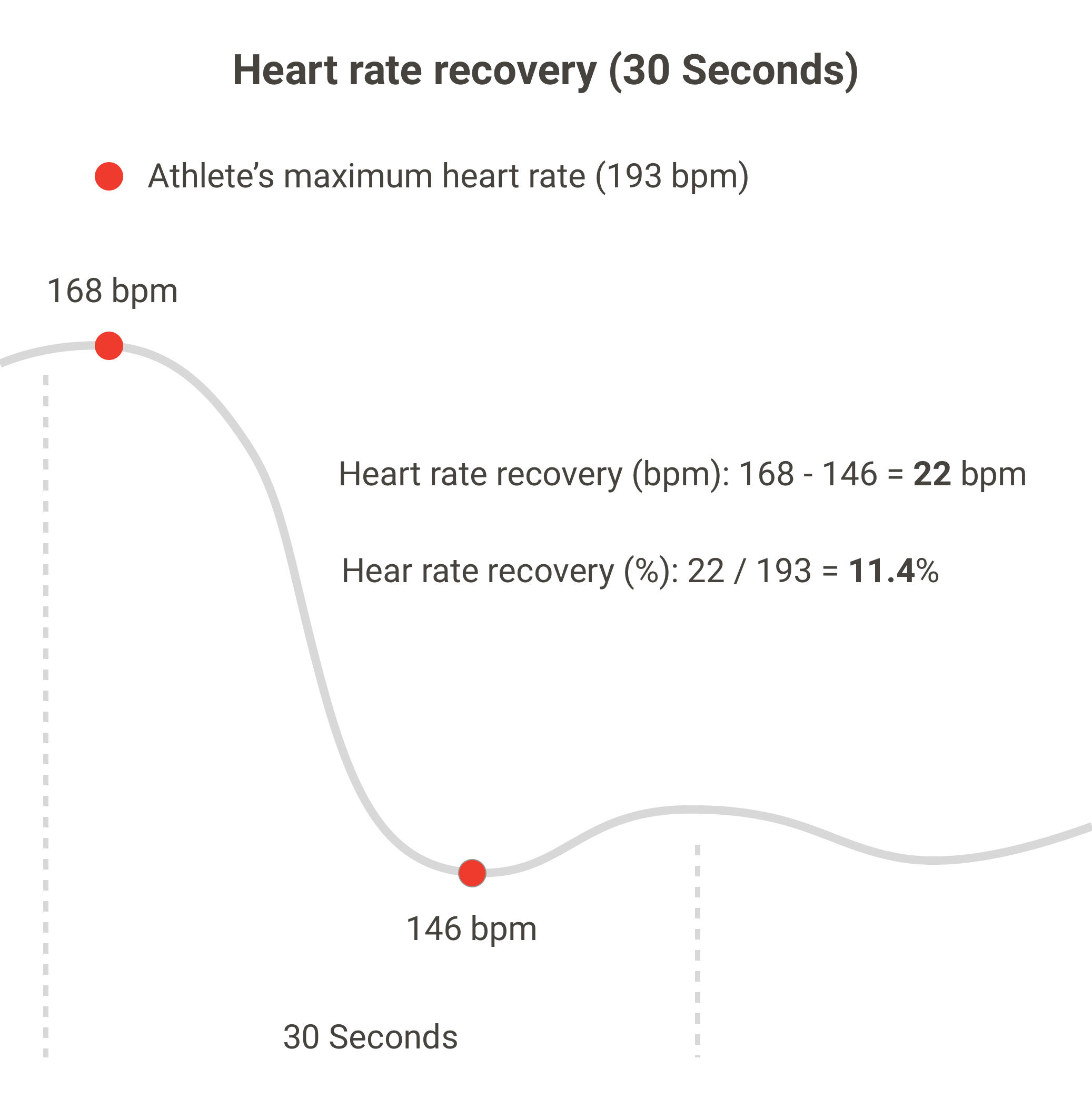 Recovery values are calculated for all measurements, sessions and laps using a rolling window for each supported period (30s, 60s and 120s). The job left for the user is to pick the relevant parts in the data where he/she wants to track the recovery values.
Consistently naming laps and sessions can help to work with data.

Heart rate recovery values in the Sports Cloud Dashboard.

Heart rate recovery values are available in the data export. Use names for sessions and laps to help filtering data in the Excel.
Examples
Create a session or a lap for a regularly performed fitness test or a control interval to track the heart-rate recovery.
Create laps for the last 5mins of each period of a game to analyze if there are changes in heart rate recovery between periods.
Details
Heart recovery analysis tracks data quality and doesn't calculate the recovery values for periods where the values are not reliable. In addition, all abnormally high drops in the HR are omitted. So, a reason for a missing heart rate recovery value could be bad data quality.
Heart rate recovery values are calculated for the data synced after the release of the heart rate recovery feature (22nd Nov 2022). History data before this date is not analysed but it's possible to create or edit laps for history data to trigger the heart rate recovery analysis.
If feature is enabled for a customer account, heart rate recovery values will be available since 22nd of Nov 2022.